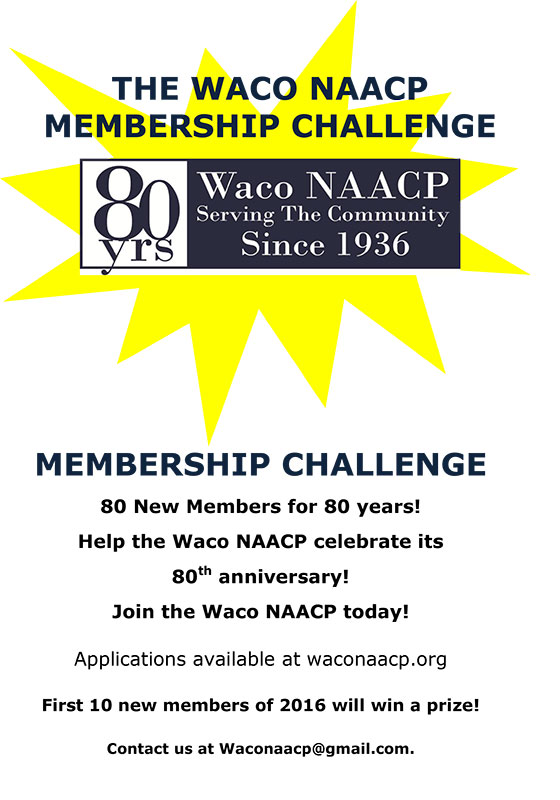 Thank you for considering membership in the Waco NAACP. We have several options for you to become a member.
THE WACO NAACP IS A 501(C) 4.  CONTRIBUTIONS OR GIFTS TO THIS NAACP UNIT ARE NOT DEDUCTIBLE AS CHARITABLE CONTRIBUTIONS FOR FEDERAL INCOME TAX PURPOSES. HOWEVER, YOU MAY USE YOUR CONTRIBUTION FOR ADVERTISING AND PROMOTION AS A BUSINESS EXPENSE FOR ADVERTISEMENT OR PROMOTION.
Print and Mail a Form
If you prefer, you can print out the form below and send it to us with your check.
Online Membership
Please choose a membership category below to pay via credit card. You can also renew your membership using these buttons.
Adult Membership
Adults 21 and over. Membership includes a one-year subscription to The Crisis Magazine.
---
Youth Membership
Youth under 21. Choose membership with or without a one-year subscription to The Crisis Magazine. If you are paying for someone else with your PayPal account, please specify their name in the box.
---
Corporate Membership
Be sure to indicate the name of your company.
---
Other Membership Options
We have other membership options such as paying lifetime memberships over a period of years. Please get in touch with us if you are interested in any of these options.