Waco NAACP is proud that we are able to award scholarships to deserving young people.
Become a Scholarship Donor
Please consider donating money to our scholarship efforts.
DEADLINE APRIL 4, 2022
The Rev. Robert L. Gilbert, Kenyatta, & Dr. Mae Jackson Scholarships
Awards: The Rev. Robert L. Gilbert Scholarships will be awarded to a graduating senior who intends to attend a community college and to a graduating senior who intends to attend a four-year college or university. The Kenyatta Scholarship will be awarded to an African-American graduating senior who intends to attend a four-year college or university. The Dr. Mae Jackson Scholarship will be awarded to a student who will be a continuing student at either a four-year college or a university. All applicants must reside in McLennan County. The scholarships will be awarded directly to the recipients upon receiving proof of matriculation at a community college or a four-year college or a university.
Eligibility: Applicant must:
Currently be a high school senior or continuing college student (rising sophomore, junior, or senior)
Plan to attend or currently attending a community college or four-year college/university
Have a 2.5 or higher GPA for graduating seniors
Have a 3.0 or higher GPA for continuing college students
Application Requirements:
Completed scholarship application form
Official copy of current high school or college transcript (may be emailed separately to waconaacp@gmail.com). This must be obtained from the registrar at the high school, college, or university. Allow time for the transcript to arrive by the deadline. Do not submit a transcript yourself. It must be an official transcript sent from your high school, college, or university.
Two letters of recommendation (may be emailed separately to waconaacp@gmail.com) Letters should be submitted by teachers, employers, or individuals who know your academic performance, service, or character.
Proof of community service, leadership, and work ethic. This may be provided as part of a resume or as a list. Please do not send actual certificates, awards, etc.
Essay (250-300 words) on the scholarship essay topic (word-processed, double-spaced)
Only applications which include the five items listed above will be considered complete. The deadline for completed applications is April 4, 2021.  Send applications via email to waconaacp@gmail.com.   
Applications may be obtained from area high school counselors or by emailing waconaacp@gmail.com.
---
About Our Scholarships
The Waco NAACP Annual Scholarship Competition
Each year, we present the Reverend Robert L. Gilbert Scholarship in honor of the first African-American graduate of Baylor University and the Dr. Mae Jackson Scholarship in honor of the first African-American woman elected as mayor of Waco.
Rev. Robert Lewis Gilbert Scholarship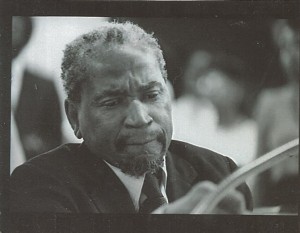 Rev. Robert Lewis Gilbert was a well-known civil rights leader in Central Texas who dedicated his life to "fighting injustice and inequality." Referred to as "Little Giant" by family members due to his small stature yet enormous heart and passion, Gilbert always strove for success and advocated for just change. Despite his decades-long struggle with rheumatoid arthritis that began when he was fourteen, Gilbert was a fighter who wrote: "You can! God says you can do anything. There is nothing on this earth strong enough to hold you back from what you can do for Him, and my life has tested the limits of God's strength and power. Whatever He puts in your heart to do, you can do it."
Thus, it is no surprise that despite growing up in the oppressive segregated environment of the 1940s and 1950s, Gilbert's life was one of successive firsts. He was the first African-American graduate of Baylor University. A student at Baylor from 1963-1967, he graduated with a Bachelor of Arts in 1967. He also attended the Baylor Graduate School of Religion from 1970 to 1971. According to his son, Rev. Dr. Kenyatta Gilbert, his father "was not caught up in being the first black student at Baylor. He was more concerned with not being the last." He accomplished another first by becoming a staff member of Baylor's Upward Bound program helping high school students become academically and socially prepared for enrollment in Baylor and other colleges. In yet another first, Gilbert was the first African-American teacher assigned to a formerly all-white school in the Waco Independent School District (ISD). In 1976, he was the first African-American elected to the Waco ISD School Board.
Gilbert fought for justice all his life. In 1979, "he organized an action group that led to the hiring of Waco's first black news anchor." In 1987, years after his illness had confined him to a wheelchair, he led a successful effort to get Baylor University head football coach Grant Teaff to hire the team's first African-American assistant coach.
In 1980, Gilbert was named Citizen of Texas and in 1992 received the Outstanding Humanitarian Award. He was the author of two books, No Excuses Accepted, highlighting his childhood and how individuals can succeed despite handicaps and When Your Days are Numbered, which aims to teach people how to die with dignity. He was the pastor of Carver Park Baptist Church from 1978-1989. He was married to Elwayne with whom he had three children.
Source: "Robert Lewis Gilbert: First in Line" by Charlandria L. Stewart
Dr. Mae Jackson Scholarship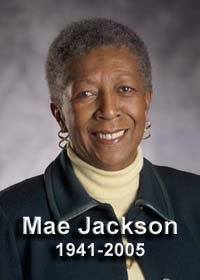 Dr. Mae Jackson came from Teague in the heart of segregated Texas to become Waco's first African-American mayor on May 15, 2004. She inspired male and female, young and old, black and white. Former US Representative Chet Edwards wrote of her, "Waco is a better community today because of Mae Jackson's unselfish public service, and for years to come her warm spirit of loving the neighbor will inspire all of us blessed to have known her." According to Leilani Ogujiofor, who met Jackson in 2002 while interning for the Democratic Party, "She will be remembered for her efforts to make voices heard and making sure people were active in politics, especially young people."
Jackson graduated from high school at sixteen and attended Texas Southern University where she earned a Bachelor of Science in social work. As a college student, she protested in Houston during the violent days of the Civil Rights Movement. In her twenties, Jackson worked with the National Council of Negro Women under the tutelage of legendary activist Dorothy Height. As part of that work, Jackson travelled to Mississippi to help build low-income housing.
Jackson was a strong believer in pursuing education beyond the bachelors. She earned a Masters of Social Work from Our Lady of the Lake University in San Antonio and doctorate from the University of Texas at Arlington. "In Mae Jackson's book, there was no achievement without hard work," explained her friend Karen Matkin. "She could be a taskmaster and very demanding but she asked no more of anybody else than she did of herself. She always believed that you should be the best person that you could be."
In 1987, Jackson was one of the founders of State Texas Democratic Women (TDW). She was the second president of the State TDW and was one of the principal organizers of the local TDW chapter, serving as its first president. She was vice president of the American Association of Democratic Women from 1997 to 1999 and a life member of the National Council of Negro Women. She also served two terms as the Waco City Council representative for District 1 before becoming mayor.
Jackson "never lost that social worker touch." She served on the Board of Directors for the Center for Action against Sexual Assault (CASA), the Laura Edwards Day Care Center, the Mental Health Association, WHCO Boys Club, and other civic organizations.
Texas Governor Ann Richards appointed Jackson to the Texas Board of Pardons and Paroles on which she served from 1991-1997. She was a proud soror of Delta Sigma Theta Sorority, Inc. She was the mother of two daughters, Andrea Barefield of Houston, Texas and Tammie Perry of Frisco, Texas.
Sources: Baylor Lariat Archives; US Mayor Newspaper; Waco Tribune Herald; Karen Matkin