Dr. Bonnie Lesley, Ed.D.
Chair, Education Committee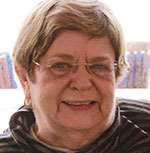 Dr. Bonnie Lesley was a public school teacher for 17 years and a central office curriculum administrator for 24 years. Her experience includes five years as Associate Superintendent and Deputy in Waco ISD, 1986-91. She also has administrative experience in Ysleta ISD (El Paso), Austin ISD, Kansas City USD (Kansas), and Little Rock SD. For two years she served as the Associate State Superintendent for Curriculum in Delaware. She has served, as well, as an adjunct professor at five universities: the University of Texas at El Paso, Baylor University, the University of Arkansas at Little Rock, Tarleton State University, and Central Texas A&M at Killeen. For seven years after her retirement from public education, she served as President of an educational software company in Waco. She earned her B.A. degree in English at the University of North Texas in Denton and her M.A. in English at West Texas A&M in Canyon. She earned an additional 54 hours of credit at the University of Texas at El Paso before pursuing her doctoral degree in Education Leadership at Baylor University, where she graduated in 1989.
In 2012 she and former Waco mayor Linda Ethridge co-founded a bipartisan advocacy organization called Texas Kids Can't Wait. This group strongly supports adequate and equitable funding for public schools and a more sane and evidence-based assessment and accountability system than Texas currently has. Texas Kids Can't Wait strongly opposes any form of privatization of public education, including charters, parent triggers, home rule, taxpayer savings grants, vouchers, achievement/opportunity school districts, and state closures and takeovers of local schools. Texas Kids Can't Wait educates communities on education issues throughout the state in person and via social media, identifies and tracks education bills during legislative sessions, and publishes a Legislators' Report Card in the spring following each legislative session.
In both her roles in public schools and in her political activities, Cain has always been a passionate advocate for equity and opportunity for all. She chose to work in urban, high minority, and high poverty school districts for 39 of her 41 years, and her advocacy centers on issues involving poverty, equity, and civil rights. She strongly believes in education as a civil right. Among her most recent publications are Money Does Matter: Investing in Texas Children and Our Future (2010) and Money Still Matters! For Our Children and for the Future of Texas (2013), both published by the Equity Center in Austin.
She is the mother of one son, Bruce Lesley, who is president of First Focus, an advocacy organization for children in Washington, D.C. She has four grandchildren all of whom are teenagers now.
Alexis Christensen
Chair, Economic Engagement Committee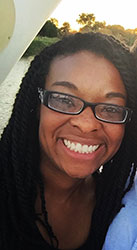 Alexis Christensen is a native Texan, born and raised outside of Austin, TX. She moved to Waco to attend Baylor University. She received her Bachelor of Arts in Political Science and Master of Social Work degrees from Baylor University. She has worked and interned at outstanding organizations including the Waco Foundation, the Texas Hunger Initiative, and the City of Waco's Housing and Community Development Department. She has also taught undergraduate social work students as an adjunct instructor in the Diana R. Garland School of Social Work at Baylor University.
Alexis is a member of the North American Association of Christians in Social Work, the Waco Disproportionality Committee, and the Waco Leadership Forum. She is a board member for the World Hunger Farm. She is on the Advisory Board for VOICE, Inc., Waco ISD's Parents as Teachers program, and Today's Actions Tomorrow's Leaders' Steering Committee.
Currently, Alexis is a Community Organizer at Waco Community Development where she focuses on community building, leadership development, and building collaborations. In this work, she has the privilege of hearing the visions and dreams of community members for their neighborhoods and helps translate those dreams into reality.
She is married to her wonderful husband of four years, Philip Christensen, and is an active member in her church.
Laurie Bell
Chair, Health Committee
Co-Chair, Alexis Christensen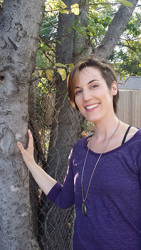 Laurie Bell moved from California to the Waco area in 2013 and immediately became active in the community. A member of the Community Race Relations Coalition, she serves on the committee for the LGBTQ support and ally group SpectrUUm and is active at the Unitarian Universalist Fellowship. Laurie joined the Waco NAACP in March 2015 and immediately began working in the unit.
Her husband works as an engineer with an aerospace company in McGregor, and her daughter proudly attends a diverse elementary school in Waco.
Norman J. Manning
Chair, Legal Redress Committee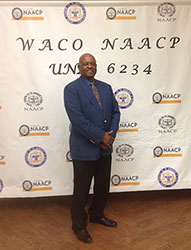 Norman J. Manning is a Waco native who is a longtime community activist. In addition to serving as the Legal Redress Committee chair, Manning serves as the Waco NAACP's Sergeant-at-Arms and Parliamentarian.A semi-retired truck driver, Manning is in his third three-year term as a Waco ISD School Board trustee. He is the financial secretary for the A. J. Moore Alumni Association and vice president and treasurer of the A. J. Moore Class of 1968. He is the chairman of the Trustee Board of Bracks Chapel United Methodist and president of the Combined Methodist Men of Waco.
In June 2015, Manning organized a "Know Your Rights" forum featuring Waco Police Chief Brent Stroman, Waco Independent School District Police Chief Ken Boatman, McLennan Community College Emergency Services Education Center Director Gary Myles, defense attorney Jose Villanueva and other law enforcement officials. Local law enforcement officials and community members engaged in a frank discussion about diversity in the police department, citizens' legal rights, complaint procedures, and racial bias. Manning plans to organize more forums in more intimate formats with young people.
Manning has three sons and one daughter. His oldest son is a head coach/teacher in Tampa, Florida; his second son currently serves in the U.S. Navy; his youngest son is a scholar/athlete at Stetson University in Florida; and his daughter is a teacher in the Washington, D.C. area.